Upcoming Speakers Presented by the Israel Affairs Committee
Hand in Hand Schools Zoom Presentation
10:30 am, Sunday, March 13
Throughout its history, Israel's national education system has operated separate schools for Jewish and Arab children. Hand in Hand exists to overcome this historic division through a growing network of bilingual, integrated and multicultural schools and communities. Hand in Hand schools serve both Jewish and Arab children, employ both Jewish and Arab teachers, and use both Hebrew and Arabic as primary languages of instruction. Additionally, Hand in Hand's community programs engage thousands of Jewish and Arab parents in holiday celebrations, dialogue, language classes, and family activities.
Hand in Hand's founder and the CEO of American Friends of Hand in Hand, Lee Gordon, will be giving a Zoom presentation about Hand in Hand to Temple Israel Portsmouth on Sunday, March 13, at 10:30 am. We encourage parents and older religious school students to attend this special event.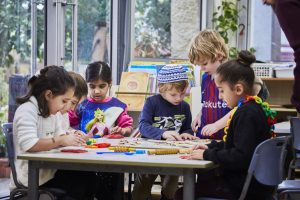 You can register for this event via the website calendar or by contacting the temple office.
Israel-Palestine: A Palestinian Perspective, with speaker Ghaith al-Omari
** A recording of this presentation is available. Please contact the temple office to receive the Zoom link. **
10:30 am, Sunday, February 13
By Emma Rous, Chair, Israel Affairs Committee
The Israel Affairs Committee is pleased to host this presentation via Zoom in conjunction with the "Israel's Milestones" Hartman course. The whole TIP community is invited to attend with class participants. Please register to receive the Zoom link.
Mr. al-Omari's talk will focus on internal Palestinian politics and  prospects for peace.
About the speaker: Mr. al-Omari is a Senior Fellow at the Washington Institute for Near East Policy, and formerly the Executive Director of the American Task Force on Palestine.
He served as advisor to the negotiating team during the 1999 – 2001 permanent-status talks and participated in the Camp David summit and the Taba talks. In addition, he held various other positions within the Palestinian Authority. He was the lead Palestinian drafter of the Geneva Initiative, an unofficial model peace agreement negotiated between leading Palestinian and Israeli public figures.
Mr. al-Omari is a lawyer by training and a graduate of Georgetown and Oxford universities. Prior to his involvement in the Middle East peace process, he taught international law in Jordan and was active in human rights advocacy.