Welcome Allison Miller

Written by: Temple office

Our new Shabbat morning yoga instructor
9:00 am, selected Saturdays. Please see the website calendar for upcoming dates!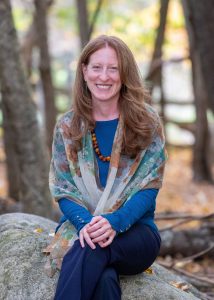 Practicing Hatha Yoga since 1997, Allison has trained with a wide range of teachers on specialties including mindfulness-based stress reduction, trauma-sensitive yoga, and meditation practices.
A licensed Clinical Psychologist, Health Service Psychologist, and teacher, Allison approaches each practice as an opportunity to connect with our true nature. She is honored to facilitate yoga at Temple Israel, where such inspiration can be drawn from the Torah and experienced through the practice.
… and a recommendation from class participant Amy Hyett!
Yoga on Shabbat—a perfect "practice"
This year, whenever I've been able to take advantage, I have attended yoga at temple before services on Shabbat mornings. What a gift this practice has been. I drop off my kids at Hebrew School and head upstairs to our beautiful chapel for a welcoming 50 minutes of yoga. This beginner-friendly class is open to all. Shabbat is the time to take a pause from our normal activities and reflect on our busy lives, and yoga is an ideal way to do just this.
A Quick Shabbat Yoga Q & A:
Q:  What do I wear?
A:  Workout clothes are fine. I tend to wear leggings and a tank with a services-appropriate sweater dress on top.
Q:  Will I feel pressure to attend services afterward?
A:  You are welcome to do so, of course, but it is not at all required or expected.
Q:  What if I haven't practiced yoga before?
A:  All levels of experience are welcome! Come try it!