Celebrate SHAVUOT Four Ways!

Sign up on the website calendar to join us for Shavuot observances:
1. An Outdoor Bimah
Sunday, May 16, 1:30 – 3:30 p.m.
Transform our Court Street parking lot and outdoor bimah into a prayerful garden-like space with greenery, flowers, and plants that you bring from home.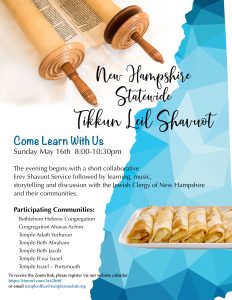 2. Tikkun Leil Shavuot: A Statewide Night of Learning
Sunday, May 16, 8:00 – 10:30 p.m.
Statewide Tikkun Leil Shavuot: Learning, Music and Storytelling over Zoom with rabbinic and cantorial leadership from across New Hampshire.
Maariv service from 8 – 8:30 p.m. Learning begins at 8:30 p.m.
Please register to receive Zoom information
3. Outdoor Shavuot Service
Monday, May 17, 11:00 a.m. – 12:30 p.m.
Enjoy a short outdoor service in our temporary garden sanctuary, featuring:
Songs of praise (Hallel)
Reading of the Ten Commandments from the Torah
Yizkor
4. Community Cheesecake and Kugel Picnic
Monday, May 17, 12:30 p.m.
Community Picnic with Cheesecake and Noodle Kugel Buffet following services. You are invited to bring your own dairy/veggie picnic lunch, along with a favorite cheesecake or noodle kugel to share. We will have outdoor coolers on hand to keep the food chilled during the service.
---