Passover at Temple Israel
Join Temple Israel for Passover!
We have a great lineup of Passover events this year, informed by the Haggadah chosen for our virtual Community Seder on the second night of Passover, The Promise of the Land. Author and theologian Rabbi Ellen Bernstein will join us on Sunday, March 14 to discuss the inspiration for her work. A copy has been ordered for every member household, thanks to generous support from the Cultural Endowment Fund and the Annual Fund. Volunteers will deliver locally and copies will be mailed farther afield. Watch for yours and please join us for the Seder!
---
Prepare your home for Passover with the Pesah Guide 5781 from the Rabbinical Assembly
All about chametz:
Sell it! Print the form to mail in, or complete online before 11:00 am on Friday, March 26.
Burn it! Join Rabba Kaya for an outdoor burning of the chametz on Friday, March 26, at 10:00 am in the temple parking lot Please bring some chametz and wear a mask.
---
The Ecological Roots of Passover: a webinar conversation with Rabbi Ellen Bernstein
Sunday, March 14, 7:00 pm
Passover marks the Jewish people's liberation from slavery in Egypt and the coming of spring. Yet it is also a story about land and the natural world. All our biblical holidays originally commemorated the agrarian and pastoral soil out of which Judaism grew. Our well-being and our freedom ultimately depend on the earth's well-being. If the earth and its systems are compromised, our freedom is compromised. Life itself is compromised. In this session, we'll be exploring the deep ecological underpinnings of the Passover haggadah, and will be digging into Rabbi Ellen Bernstein's new-ish Passover haggadah, The Promise of the Land.
Rabbi Ellen Bernstein is an eco-theologian, spiritual leader, writer and creative. She founded Shomrei Adamah, Keepers of the Earth, the first national Jewish environmental organization in 1988.
---
Bake with TI Sisterhood
Sunday, March 21, 12:30 pm
Temple Israel's Sisterhood welcomes you to a Passover Bake Off over Zoom. Ashley Barajas will show everyone how to make Nigella Lawson's recipe for Intense Chocolate Mousse Cake. View the recipe, gather your ingredients and join us!
---
Fast of the Firstborn Teaching and Siyum
Thursday, March 25, 9:00 am
Are you a first-born?
Jewish tradition requires that first-borns fast on the day before Passover in acknowledgment of the saving of the Jewish firstborn's lives during the tenth plague in Egypt. However, the Rabbis also decreed that one may be absolved of this fast through engaging in a siyum– a celebration of the completion of a segment of Jewish learning- usually from Mishna or Talmud. If you would like to participate in a virtual siyum this year, please join Rabba Kaya for some learning and breakfast on Thursday morning.
---
Experience an Earth Seder
Join Temple Israel for a virtual seder on the second night of Passover,
Sunday, March 28, beginning at 5:30 pm.
Part One 5:30 – 7:00 pm
Dinner 7:00 – 8:00 pm
Part Two 8:00 – 9:00 pm
A traditional yet innovative seder, led by Rabba Kaya that acknowledges the interconnectedness of our lives with the Earth, its people, and creatures. This virtual family seder will be guided by The Promise of the Land: A Passover Haggadah by Rabbi Ellen Bernstein.
Register for this free Community Seder. All are welcome!
Sign up to read by March 19. All ages welcome!
---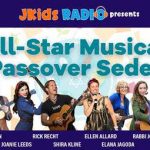 KIDS: Join us for the JKids Radio Musical Passover Seder
Wednesday, March 31, 5:30 pm
Temple Israel is pleased to join with PJ Library New Hampshire to host a JKids Radio All Star Musical Seder with an unbelievable line up of all the top artists in Jewish children's music including Nefesh Mountain, Rabbi Josh Warshawsky, Eliana Light, Shira Kline, Ellen Allard, Rick Recht, Joanie Leeds, and Elana Jagoda.
During this highly-interactive seder experience which will run 45-55 minutes via Zoom, the artists will sing traditional and contemporary songs, tell the Passover story, and explore the foods on the seder plate, the blessings, the questions, and the highlights of the Exodus – from slavery to freedom.
This program is free and open to all! Register to receive the Zoom information from the Jewish Federation of New Hampshire.
Yes! I want to attend the JKids All-Star Musical Seder
---
If that was all, Dayenu – but there's more!
Buying Gifts for Passover?

These online shops have partnered with Temple Israel!

Members: Find the Afikomen!

Have you logged into ShulCloud yet and updated your personal and family information? Take this opportunity to clean the chametz from your data, update your records and find the afikomen we've hidden somewhere in ShulCloud!
---