Invitation to New Discussion Group for Seniors
Temple Israel is pleased to announce a new discussion group for seniors: The Joyful Blessing of Time.
This discussion group, led by experienced facilitator Laura Durant, will be a safe, supportive place to share our experiences, concerns, thoughts, and feelings about this time in our lives. We will recognize and celebrate our triumphs, acknowledging the strength and resilience each of us has developed over time. With this awareness we can better face the inevitable natural changes to come, both physical and emotional. We are strengthened as we learn from one another's collective experience, laugh and sigh together, celebrate and support our tomorrows.
This group will meet weekly on Wednesday mornings at 10:00 am, beginning March 17, 2021, via Zoom or phone dial-in. (When COVID conditions improve, we hope to meet in person in the social hall, with the facilitator connecting via Zoom.)
No computer? No problem! You can dial in to the meeting with your phone and follow the prompts to hear and chat with your fellow congregants. Register on the website calendar to receive the Zoom link or dial-in information and feel free to call Heather in the office to practice the technology before the first meeting.
New to Zoom? No problem! Please contact Heather in the office for help downloading the app to your computer or smartphone and running a practice session before the first meeting.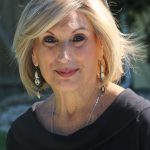 About the facilitator: Laura S. Durant, MSW, LCSW, ACSW, is a retired Social Worker and Psychotherapist living in Florida. She's the mother of two children and three grandchildren, a graduate of Rutgers University Highest Honors School of Social Work. She has interned in hospitals working with cancer patients and families and been the Clinical Director of two inpatient dual diagnosis recovery centers in NJ. She developed a Healthy Aging Program focused on quality of life at Independent and Assisted Living Facilities in Broward County, Florida. She's presently facilitating an "Aging Gracefully" group at Temple Sholom, Pompano Beach, Florida.
We hope you will take advantage of this opportunity to connect with your fellow congregants!
With Blessings,
Rabba Kaya Stern-Kaufman