Celebrating Purim, online and in-person!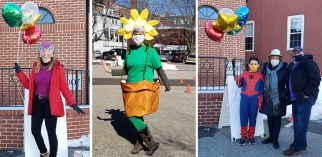 Many thanks to the Ritual Committee members, Hebrew School students, Sisterhood, Rabba Kaya, and all the volunteers who created an array of programs for a socially-close and physically-distanced Purim celebration. With the generous support of the Cultural Endowment Fund, temple members enjoyed a variety of events, including:
The family-friendly and interactive comedy show "Esther to the Rescue," performed by members of the professional troupe, The Bible Players.
Hebrew School students and their families created and delivered mishloach manot to the homes of some of the senior members of the congregation.
Magician Ariel Shrum and community readers enlivened a virtual Megillah reading.
Sisterhood members Helen Hanan and Lorrie Grossman hosted a Zoom hamantaschen bake from their respective kitchens.
The Ritual Committee was grateful for a sunny and mild-for-February Friday afternoon for the Parking Lot Purim-Palooza! The drive-through celebration featured tables for mishloach manot drop-off and pickup, a food drive station where congregants could fulfill the mitzvah of matanot la'evyonim, holiday-themed Mad Libs, Parsley Prep Packets, and a photo-op station staffed by costumed and masked volunteers. Rabba Kaya and our joyful Ritual Committee volunteers enjoyed Israeli dancing during breaks in the action, in a scene of merriment which delighted several Jewish visitors and new residents who happened to walk by.