Temple Israel Supports IsraAID Efforts in Haiti

Written by: Rabba Kaya Stern-Kaufman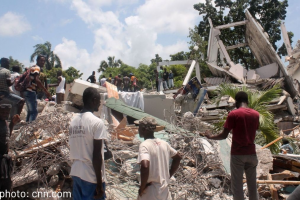 The disastrous situation in Haiti following an earthquake and a tropical storm demands a concerted and powerful humanitarian effort. The need is great and we are fortunate to have the opportunity to contribute tzedakah through Israel's largest humanitarian organization IsraAID.
We are inspired by the efforts of IsraAID to support vulnerable people around the world who find themselves in the most desperate of circumstances.  The Mishna teaches that all humanity descends from a single source, to teach us that we are all bound up in one web of human responsibility and interdependence, and to remind us that to save a single life is to save an entire world.
Answering the call to Tikkun Olam, Repairing the World, IsraAID uses the Israeli spirit and know-how to save lives and aid the needy around the world through disaster relief and crisis intervention. They are currently on the ground in Haiti providing urgently needed relief items, Water, Sanitation & Hygiene, Psychological First Aid and mental health support.
As Rosh Hashanah approaches we are reminded that through repentance, prayer, and tzedakah/charitable gifts we can change disastrous outcomes. Please join us today in contributing tzedakah at this critical moment to those most in need. Donations can be made to IsraAID on this page.
May it be a year of goodness and blessing for all,
Rabba Kaya Stern-Kaufman
Emma Rous, Chair of the Israeli Affairs Committee
Shelley Hartz, Chair of the Tikkun Olam Committee