Tu Bi-Shvat Community Seder
We are preparing for a delightful and delicious Community Tu Bi-Shvat Seder on Wednesday, January 27, from 5:30 – 6:30 pm.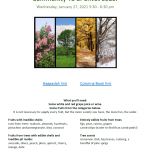 Print your "fridge flyer" with all the details!
Curious about the origins of this festival? Read on for a lively explanation by Deborah Hirsch Mayer, VP, Ritual.
The Why and What of Tu Bi-Shvat
Why a new year for trees? In ancient times, farmers needed to know how old a fruit tree was to know when its fruit could be eaten. (Leviticus 19:23-25). In the 16th–18th centuries, Jewish mystics in Tzfat (Safed) created a Tu Bi-Shvat observance that focused on Kabbalah's "four worlds" of creation, including a "tree seder" modeled on the Passover seder. The four cups of wine progress from white to red to symbolize the transition from winter's rain to the full heat of summer. When agricultural settlements were established in Palestine in the late 1800s, Tu Bi-Shvat came to symbolize the revival and redemption of the land. In modern Israel, Tu Bi-Shvat is celebrated with tree-planting. In the US in the last 30 years, Tu Bi-Shvat has become a Jewish ecology awareness day, with attention to recycling and other ways of caring for the earth.
Other ways to observe Tu Bi-Shvat:
Eat fruit! Since Tu Bi-Shvat is the 15th day of the month, some people celebrate by eating 15 different fruits, especially the Seven Species for which Eretz Yisrael is known: "a land of wheat and barley, figs, and pomegranates, a land of olive trees and [date] honey." (Deuteronomy 8:8)
Read a story or sing songs about trees.
Order seeds for spring.
Cut forsythia branches, bring them inside, and watch the buds bloom.
Feed birds. The Shabbat closest to Tu B'Shevat is always Shabbat Beshallach. In the parashah, God gives the Israelites manna, and Moses instructs them to collect a double portion on Friday because none will fall on Shabbat. There is a midrash (a story about the Torah text) that some people wanted to have a little fun with Moses. They spread some manna on Friday night, so on Shabbat morning, it would look as if manna had indeed fallen. During the night, birds came and ate all that manna, so in the morning, Moses was not embarrassed. Some people feed birds on Shabbat Beshallach, to thank them. Since many birds live in trees, that custom ties in nicely to Tu Bi-Shvat.
Links for the Community Seder
Use the Zoom link for religious services, included in the regular Friday bulletin.