The Wall Has Been Beautified!

Written by:
20210201
The first phase of the landscaping project that was a major beneficiary of the 2019 Annual Fund campaign has been completed! The granite blocks that formed an uneven, crumbling retaining wall below the playground and above the Court Street parking area have been rearranged to form a smooth, secure wall. The work was completed by Lang's Landscape Services, a family-owned busine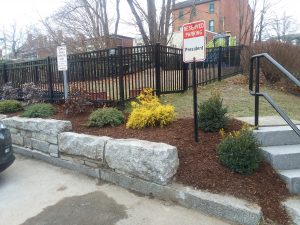 ss that has been operating in Greenland for many years. Lang worked within the temple's budget to complete the job this fall. They also installed new, more attractive plantings between the wall and the playground. At the end of the parking area, they repointed the antique brick paving, installed a brick ramp for easy access, and removed some stray stonework so trash and recycling can be picked up there.
According to temple lore, the granite stones that make up the retaining wall landed on Temple property many years ago because of Sam Rottenberg z"l, who may have gotten them from the city. The House Committee wanted to be sure that the old stones would be reused in this project. The brick pad also has some history. Apparently, this was where the City of Portsmouth stored its horse-drawn fire trailers of old.
Anyone wishing to support future Temple grounds beautification is invited to donate to the TIP Landscape Fund.