POSTPONED: Artist-in-Residence Elana Arian
Still making music together
Unfortunately, Elana Arian is ill and can't visit us this weekend. Rabba Kaya and Lisa Jane Lipkin are cooking up a beautiful musical service for tonight with community potluck dinner! Revised weekend schedule below.
COME SING WITH US!
SHABBAT WEEKEND **Updated**
Friday, 11/18, 6:00 pm: Musical Kabbalat Shabbat service led by Rabba Kaya Stern-Kaufman, with special guest Lisa Jane Lipkin.
7:15 pm: Community potluck meal is ON! Please bring a dairy/vegetarian/pareve dish to share.
Saturday, 11/19
9:00 am: Hebrew School: classes meet as usual. Coffee and bagels in the Shmooze for parents.
9:00 am: Torah-Inspired Yoga: in the social hall with instructor Allison Miller, kindly register .
10:00 am: Shabbat morning service: led by Rabba Kaya, with special musical guests: the Hebrew School students, followed by a kiddush luncheon. Support our students on the bimah!
7:00 pm: CONCERT POSTPONED, new date TBA
---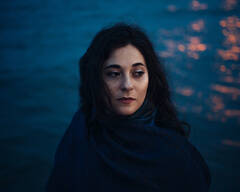 Please join us for a weekend of activities featuring noted singer/songwriter Elana Arian.
FRIDAY, 11/18, 6:00 pm: Kabbalat Shabbat. Hear Elana's beautiful voice and original compositions as she joins Rabba Kaya Stern-Kaufman in leading    Kabbalat Shabbat services. Join us after services for a dairy/pareve potluck dinner.
SATURDAY, 11/19, 10:00 am: Student program: Shabbat morning, Elana will bring a joyful learning experience to our Hebrew School students, then lead a musical service with Rabba Kaya.
SATURDAY, 11/19, 7:00 pm: In concert. We will experience a joyful community event – much more than a concert. This special evening will be a chance to join our voices together in communal song and harmony that you won't want to miss. Dessert in the social hall follows the musical program. Suggested ticket donation of $18.00 benefits the Music Fund; sponsorships are available! Reserve your tickets.
Questions? Contact the Temple Israel office, (603) 436-5301. Learn more about Elana at her website, All programs and services in the sanctuary will also be available via Zoom,  using the regular link for services published in the weekly bulletin.