Community Seder
More than a hundred members, guests, and visitors  gathered in the Social Hall on April 15, the first night of Passover, for a joyful community celebration.
Many thanks to all those who attended, service leader Rabba Kaya with guest musicians Lisa Lipkin and Jay Hitt, and most especially to the crew of  volunteers, ably led by coordinator Cathi Cherry-Liston, who made the dinner and supporting events possible. Thanks to the Cultural Endowment Fund for generous financial support.
Special appreciation to shopping coordinator Jane LeSavoy, who was assisted by Shea Henderson, Joan Goldwyn, and Sandell Morse. Helen Hanan organized the seating charts. Margie Wachtel and Bob Bradbard served as greeters. Sandell Morse arranged and donated the flowers. Cooks were: Lessa Brill, Joan Goldwyn, Deborah Levine, David Cline, and Joyce Meenes (David and Joyce peeled 150 eggs!). Food from caterer Larry Levine's in Peabody, MA was picked up by Cathi Cherry-Liston and Janet Insolia.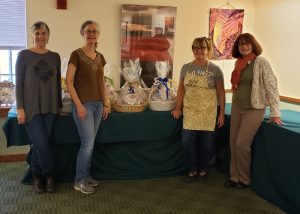 Social Hall setup was accomplished with the help of many: Dan and Jeannie Hastie, Fran Berman, Heather Berube, Lessa Brill, Joyce Meenes, Sandell Morse, and Margie Wachtel. Food was served by Lessa Brill, Bert Freedman, Joyce Meenes, Auggie Collier, Carmen Duran and Sarah Brown. Clean up done by: Lessa Brill, Bert Freedman, Joyce Meenes, Auggie Collier, and Doug Tilton (Doug gets the Last One Out award!). Heather Tomlinson handled registration and nametags.
For the Seder Plate in a Box preparation & delivery crew, thanks are due to: Kerry Hansen, Jewel Davis, Jane LeSavoy, and David Cline.
Photographers Cathi Cherry-Liston and Lessa Brill kindly shared their photos.