Finding The Spirit of Celebration
Guest post by Dinah Berch, PJ Library Program Coordinator, Jewish Federation of New Hampshire & Temple Israel Member
November 17, 2021
My playlist is slowly shifting over from "Zombie Jamboree" and "Monster Mash" to Daveed Diggs' "A Puppy for Hanukkah" and Six13's "Arianukah". My kids' snacks mutate from leftover candy to donut muffins. The skeletons go back into the garage until next year and the blue and gold window clings come out. My kids are especially proud of their electric menorah that lives in their 2nd floor window.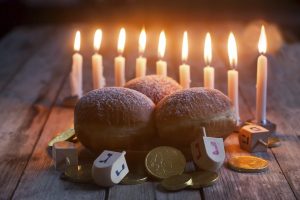 I'm "that mom" – the one who (pre-Covid) went into the classrooms to read a book about the Jewish holiday of the season, complete with dreidels and gelt for everyone. My house is decorated. I go all out for holidays, especially birthdays. I used to work for a nonprofit that had "spirit of celebration" as a core value – needless to say, I was pretty good at that one. Fortunately, Judaism is big on celebrations. Our years are marked with festivals and holidays and so many wonderful reasons to get together, in person or virtually, and enjoy the foods and sounds and stories.
Sometimes it's helpful to have a place to start, a holiday cheat sheet. If you're "that parent" this season, PJ Library has all the resources you'll need at the "Hanukkah Hub" at pjlibrary.org.
My current favorite book for explaining Chanukah is Meet the Latkes by Alan Silverberg. If you haven't met the Latke Family and heard about the mega-bees and tater tyrants, I strongly recommend it. I often return to a few childhood favorites as well: A Chanukah Story for Night Number Three and All of a Kind Family Hanukkah. The National Geographic Kids "Holidays Around the World" series has a nice Celebrate Hanukkah edition as well, perfect for school libraries.
If your kids like cartoons and tv as much as mine, I recommend "The Chanukah Shaboom! Special – Great Miracles" on YouTube. This ten-and-a-half minute cartoon features the Plony family and "Sparks" Gabi and Rafi as they try to fix the world with an epic Chanukah party.
I love all the Chanukah craft ideas on Pinterest. I really want to try and make a pool noodle menorah this year. There are some great ideas for using recycled materials to make menorahs: toilet paper rolls or egg cartons or even paper plates and clothespins. For Chanukah cards try painting your children's hands and using the fingers as the candles for a cute handprint menorah.
Where I struggle is with games that are interesting enough to separate my kids from their tablets. This year I might try the "Chanukah Chocolate Gelt Challenge". Here's how you play: Unwrap one piece of chocolate Chanukah gelt per player. Each player tips their head back and places the gelt on their forehead. Each player must get the gelt into their mouth WITHOUT using their hands. If the gelt falls on the floor, they start over from their forehead. The first one who gets the gelt into their mouth is the winner!
We might also try a version of musical chairs that involves hiding thousands of dreidels and then having my kids try to find them before the music stops. The winner is the child with the most dreidels at the end of the music. The loser is my husband who will be finding (and likely stepping on) dreidels for the rest of the year.
If you have a large group, try playing "Maccabees"! Think Capture the Flag meets Freeze tag. Two teams, each with a bottle of "olive oil" that they must protect. If you get tagged by the other team, you're frozen until one of your teammate's "rescues" you. First team to find the other team's oil and bring it safely to their "temple" wins! But careful – if you break or spill the olive oil, the other team wins.
For a little "spirit of giving" try "dreideling" a neighbor or friend! Leave a small bag on their doorstep with a few dreidels, some chocolate gelt and the instructions for playing dreidel, with a sign that reads "You've been dreideled!"
I've always found it special that Chanukah comes in the winter when we really need that extra light – but then Chanukah ends and we still have December and January and February and, in New Hampshire, March before the snow melts. So this year I'm hoping to add the Ninth Night of Chanukah – the Shamash Night – to help add a little more light into the world. On the ninth night of Chanukah – this year that would be December 6th –light only the Shamash. Celebrate Shamash Night by doing nice things to honor the helpers in your life, whether that's a grandparent or neighbor or maybe first responders. Leave a water bottle for the mailman. Order some pizzas for the local fire department (but call first to check on local Covid protocols). Send a large container of coffee to the school office. Leave compliment cards on their car. Take the time to say thank you.
And as Chanukah winds to a close, rather than getting depressed about the doom and gloom of New Hampshire winter, I'm going to find the next reason to celebrate: Tu B'shvat! I'm not great at keeping plants alive indoors – in fact, I'd go so far as to say that I have a black thumb. But throwing a birthday party for the trees, now that's something I can do. Watch the JFNH Community Calendar and Email blasts for Tu B'shvat seders, fruit mandalas, "Green Thumb" training and more.
Happy Chanukah and Happy Celebrating!

View Temple Israel Hanukkah Events & Resources
---