Fun family programs!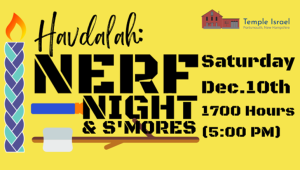 Did you know that Temple Israel hosts many events for families in addition to Religious School programs and classes?
Please join us for some after-hours fun!
Upcoming programs include:
Saturday, 12/10, 5:00 pm, Havdalah, Nerf Night & Smores. 
Bring your blaster and nerves of steel for an EPIC Nerf battle! Join us as we mark the end of Shabbat, enjoy hot s'mores by the fire and have a full-on nerf fight in the Temple! Darts are provided but BRING YOUR OWN NERF GUN*. Children under 10 MUST be accompanied by an adult.
Open to the community, invite your friends! Appropriate for ages 5 and up. Kindly register on the website calendar.
*NOTE: All Nerf guns MUST use Nerf ELITE style darts. No other darts will be provided.
Wednesday, 12/21, 5:00 pm, Community Hanukkah Party in the social hall with lotsa latkes, games, singing, and more! Bring your favorite hanukkiah and light up the night.
More information / Registration
Saturday, 1/21, 5:30 pm: Havdalah, Ice Cream & Bowling at Bowl-o-Rama in Portsmouth
More information / Registration
Saturday, 2/18, 6:00 pm, Havdalah, Ice Cream & Laser Tag in Somersworth