Shabbat Services Canceled for weekend of 5/13 & 5/14

Written by: Temple office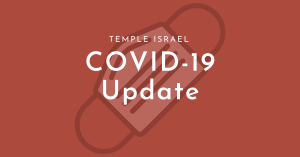 Unfortunately, due to a combination of illness / lack of availability among the congregation's clergy and lay leadership, there will be NO Shabbat services held at Temple Israel on Friday night (5/13) or Saturday morning (5/14).
Hebrew School classes WILL meet in person as scheduled.
Shabbat morning Yoga WILL meet in person as scheduled.
Other synagogues offering Shabbat services via livestream or Zoom:
Shirat Hayam, Swampscott, MA (USCJ), or on Facebook
Congregation Mishkan Tefilah, Brookline MA (USC)
Temple Beth Abraham, Nashua (USCJ)
Park Avenue Synagogue, NYC (USCJ)
B'nai Jeshurun, NYC (Conservative, unaffiliated)
Central Synagogue, NYC (Reform) :
Romemu, NYC (Renewal)
Apologies for the short notice, and thank you for your understanding.