Tot Shabbat + Shabbat Happy Hour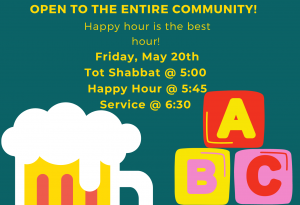 Join us for a night out on the Shul! Tot Shabbat for preschool-aged children will be followed by potluck appetizers for all and an open bar for the grownups.
5:00 pm: Tot Shabbat
5:45 pm: Happy Hour
6:30 pm: Kabbalat Shabbat service
Join us in the social hall and bring your favorite Happy Hour appetizers to share before the Kabbalat Shabbat service begins. See below for potluck guidelines.*
Let us know the appetizer you plan to bring in the notes section when you register.
Beer and Wine provided for adults, juice and soda for the kids!
All food brought to the event must be vegetarian, dairy or pareve. Pareve (neutral) refers to foods that are neither meat nor dairy. This includes all fruits, vegetables, grains, eggs, and fish which have fins and scales. More potluck guidelines (see Appendix 1).
*This event plan assumes Code Green or Yellow for Rockingham County on the CDC County Risk Level guidelines.
Questions? Please contact the temple office.